Howmet Aerospace Foundation Provides Emergency COVID-19 Relief in Acuña
Howmet Aerospace Foundation Provides Emergency COVID-19 Relief in Acuña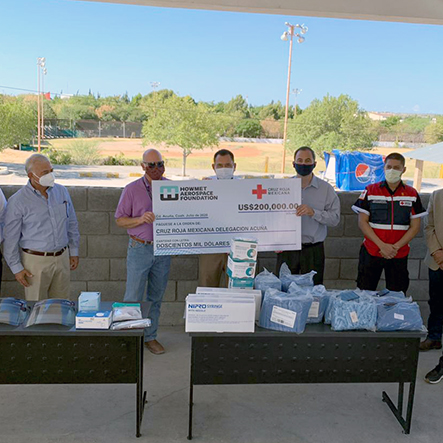 Howmet Aerospace Foundation is providing emergency relief to help fight COVID-19 in hard hit Acuña, Mexico through a grant of U.S. $200,000 to the Mexican Red Cross. The funding will be used in the local health systems, which are struggling to cope with the spreading infection that has left medical personnel without basic personal protective gear and disinfection equipment.
"The health and safety of our employees, and by extension, the communities where we they live, are a central part of our responsibility as a company," said Ken Smith, plant manager for Howmet Engine Systems Acuña Operations. "So, when we saw the health system in Acuña become overwhelmed, we knew we had to step up and help provide much-needed equipment and supplies."
Acuña has led the State of Coahuila in the number of new and active COVID-19 infections. Those cases along with the number of COVID-related hospitalizations have flooded local health resources.
"The pandemic is likely to be a significant challenge for healthcare in the region for the foreseeable future," said Marco Fuentes, plant manager for Howmet Fastener Systems Acuña Operations. "So we as a community, including Howmet, have a duty to pitch in to help solve those difficult problems."
Through this grant, the Acuña Red Cross will purchase personal protection and disinfection equipment for medical personnel. The Red Cross has said it will purchase supplies such as waterproof surgical gowns, Tyvek Dupont gowns, N95 face masks, medical gloves, helmet type acrylic face shields, Tyvek Dupont suits, disposable caps, surgical boots, liquid soap, and antibacterial gel.
"We are honored and grateful for the trust of the Howmet Aerospace Foundation for this emergency financial support for our health sector," said Victor Manuel Chavez Flores, president of the Acuña Red Cross. "This represents an enormous relief for health professionals who will be able to treat patients with the full confidence of not being infected with COVID-19."
The Acuña Red Cross will work hand-in-hand with the local business chambers of commerce – Canacintra and Index Acuna / Del Rio – to ensure that the medical equipment and supplies are purchased at the correct price and delivered to the appropriate facilities. The chambers will also conduct a post-delivery audit to ensure that personal protection items against COVID-19 effectively reach health professionals.