Howmet Aerospace Foundation Supporting STEAM Education Programs in Pittsburgh
Howmet Aerospace Foundation Supporting STEAM Education Programs in Pittsburgh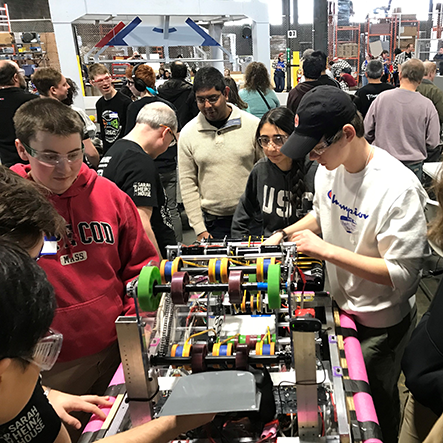 Howmet Aerospace Foundation is supporting science, technology, engineering, art and mathematics (STEAM) programs in Pittsburgh through a $1 million grant to Sarah Heinz House. The member of the Boys & Girls Club of America, which is dedicated to empowering all kids, especially those who need them most, will use the five-year grant to improve its technical infrastructure.
Sarah Heinz House intends to use the funding to install new audio/video systems throughout their building and upgrade its wireless network infrastructure. These improvements will further strengthen its successful Sarah Heinz Advanced Robotics Program (SHARP).
"We are thrilled to partner with Sarah Heinz House to enhance its advanced robotics program," said Neil Marchuk, president of Howmet Aerospace Foundation. "Through this and other STEAM education outreach programs, we are providing under-represented children in Pittsburgh with more opportunities to gain the technical skills they need to succeed in the high-tech jobs of the future."
Sarah Heinz House also intends to use the funding to hire a full-time staff member to manage SHARP.
"This will be transformative for our robotics program, allowing us to take our programs out to area schools and outreach events to create mutually-beneficial partnerships that serve kids where they are," said Jennifer Cairns, executive director of Sarah Heinz House. "This also gives us an opportunity to expand our internal reach by bringing STEAM instruction into our Healthy Choices for Life programs."
With the improved technical infrastructure, Sarah Heinz House also plans to increase its virtual learning programs in response to the COVID-19 pandemic, which has disproportionately impacted the education of under-represented communities. This will also allow the organization to provide a portion of its 100-plus weekly programs virtually since all its on-site operations have been suspended.
"We must pivot at this moment to meet the needs of our under-represented communities," said Cairns. "We know that disparities in outcomes from this crisis will be even more pronounced."
"Howmet Aerospace Foundation recognizes the challenges faced by children that don't have access to supplemental, virtual learning opportunities like these at home or at school, especially in the age of COVID-19," said Marchuk. "This is why we are supporting Sarah Heinz House."