Howmet Aerospace's largest and fastest growing market is aerospace, where we have had a major presence since the Wright brothers' first flight. Fueled by an expanding middle class and increasing air travel, global aircraft demand has led a firm order book with an 8.5 year backlog for both commercial aircraft and aero engines.
Howmet Aerospace is well-positioned to benefit from that growth with a range of high performance multi-materials, highly engineered products, and vertically integrated machined solutions for aero engines and airframe structures. Our solutions range from the most innovative investment castings, advanced coatings, seamless rings, forgings, titanium extrusions, and titanium mill products, to fasteners that hold aircraft together.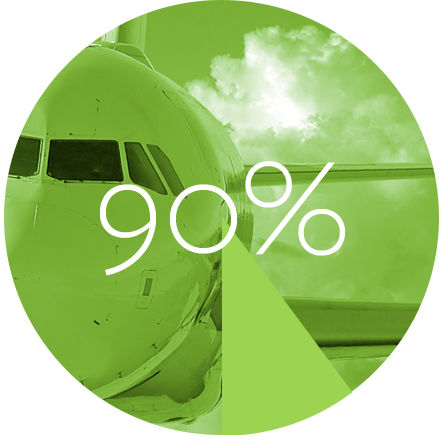 On board everywhere
Wingtip to wingtip, nose to tail, Howmet Aerospace's materials and solutions are on board. We can produce more than 90 percent of all structural and rotating aero engine components, and we invented over 90 percent of all the aluminum alloys that have flown.
Pushing the Boundaries
Howmet Aerospace extends the thermal properties of metal for aero engines