Waco Tejas Logistics Overview
Waco Tejas Logistics
325 Pleasant Street
Tejas Logistics
Waco, TX 76704
USA
Time Zone: Central Standard Time
Message to the carriers from Waco Tejas Logistics:
Drivers must wear required safety equipment at all times while inside the building.
Shipping/Receiving
Shipping: Tejas Logistics
Van, boxed trailer, enclosed trailer
Steel and aluminum fasteners, boxed and palletized
Safety equipment required. Engine must be shut off and brakes engaged.
Truckloads (long hauls) to pick up between 7:00 AM and 12:00 PM; LTLs to pick up 1:00 PM to 5:30 PM
Driver Safety Equipment
Required – Howmet Aerospace Provides
Required – Driver Provides
Not Required at Location
Safety glasses with side shields
Fall Protection
Stationary platform – driver back in
Stationary platform – driver pulls through
Movable platforms (manual)
Movable platforms (electric or pneumatic)
Overhead trolley beam with harness system
Netting that attaches to truck
Air bags or foam pads positioned next to truck
Guardrails placed on side of truck
Safety curtains at open dock doors
Load securement/tarp assistance
Blocking and Bracing
Assists flatbed drivers with tarping of freight?
Dock locks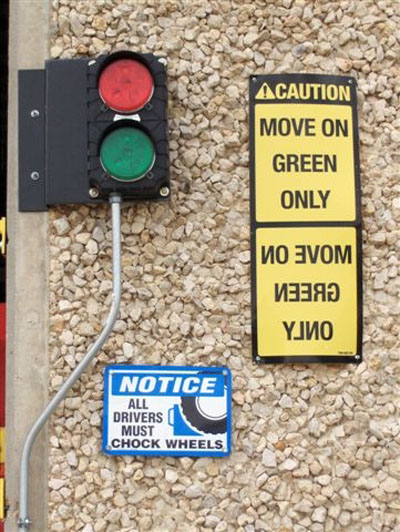 Dock lights
Driver Amenities
Access to employee restroom
Access to portable toilet
Waiting area – heated and air-conditioned
Waiting area – heated only
Waiting area – air-conditioned only
Waiting area – no climate control
CB communication with guards or dock
Non-driving passengers allowed in plant?
Minimum age for admittance to plant
Do passengers have access to facilities?
Are pets allowed on plant site?