Accu-Lok® Blind Bolt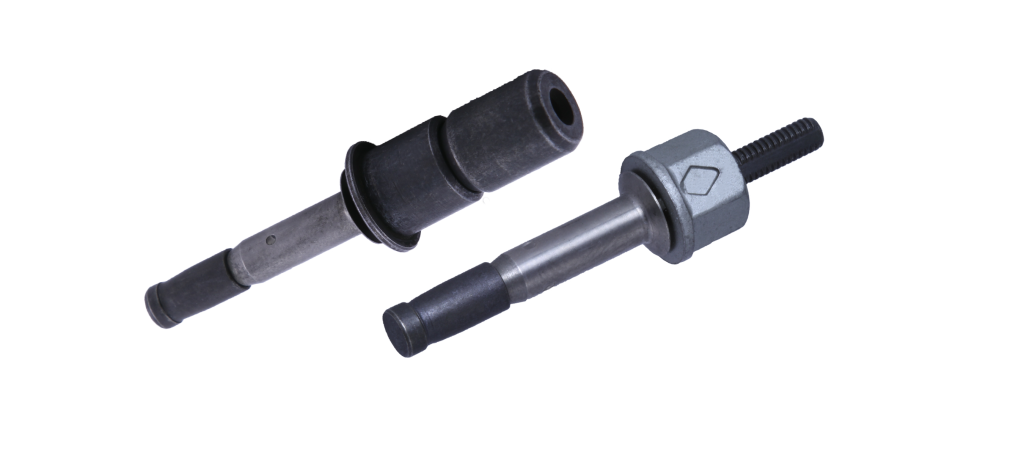 The Accu-Lok® blind fastening system family, which consists of Accu-Lok®, Accu-Lok® II and Accu-Lok® IIa, is designed specifically for use in composite structures where access is limited to one side of the structure. It combines high joint preload with a large diameter footprint on the blind side. The large footprint enables distribution of the joint preload over a larger area, thus virtually eliminating the possibility of delaminating the composite structure.
Design features
The Accu-Lok® blind fastening system family is available with the Dryv-Cap™ mechanism, which is a non-threaded installation system. The Dryv-Cap™ mechanism is essentially a disposable driver, which positively engages the driving recess in the fastener and is captivated to each fastener. This eliminates the wear associated with conventional drivers. The interface between the Dryv-Cap™ mechanism and the installation tool is a standard hex. Additionally, the Dryv-Cap™ mechanism positively engages the fastener and installation tooling, avoiding rotation of the fastener during installation. This eliminates marring of the parent material surface.
All the necessary tools are specified in the detail catalogs and individual customer drawings. A wide selection of both hand and power installation tools is offered. The main nut body is most commonly made from 6Al-4V titanium. Alternative materials are also available. The sleeve component is made from 300 series corrosion resistant steel. Each assembly also contains a small acetyl insert. Various finishes are available for these fasteners. Typical Accu-Lok® blind bolt applications include fixed and rotary-wing, commercial and military aircraft.
Cost-effective features
Quick installation:
Only two installation nosepieces are required for installation of all fastener sizes. The Accu-Lok® family of blind fasteners is easily installed using common, widely available tooling. In addition, cam-outs are virtually eliminated.
Consistent clamp force:
There is a positive engagement between the driver and the fastener that results in consistent through-thickness clamping force. As a result, the clamping force is superior to other competitors while not damaging the composite material.
Durability:
This blind bolt has a corrosion resistant steel sleeve and is designed to be galvanically compatible with carbon fiber reinforced composite structures. In addition, the use of the Dryv-Cap™ mechanism protects the fastener during installation. Consequently, the tool life is also extended.
No risk of foreign object damage (FOD):
The Accu-Lok® blind bolt drastically reduces the risk of FOD because the Dryv-Cap™ mechanism remains captivated to the core pin even after installation.