Ti-Matic® Blind Bolt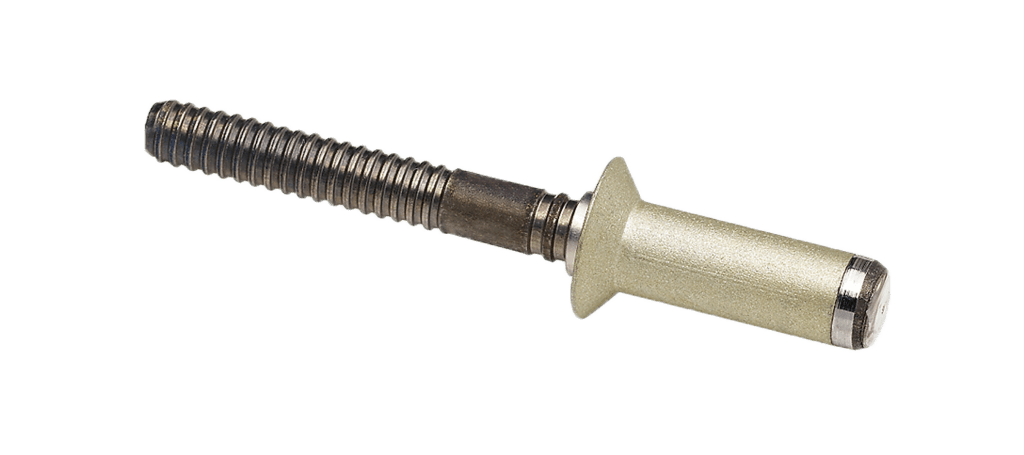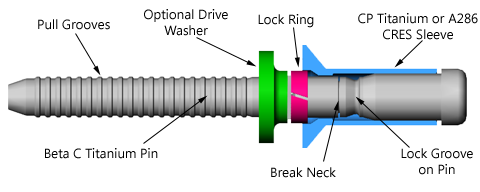 The Ti-Matic® blind bolt is a high-strength, vibration-resistant, cost-effective, lightweight blind fastener. Ti-Matic® blind bolts have been used successfully in many critical aerospace structural applications. With its 95ksi-shear capability, this fastening system also can be considered for installations in highly loaded structural applications. All Ti-Matic® blind bolts are designed for installation with a variety of available pneudraulic or hydraulic pull-type tools.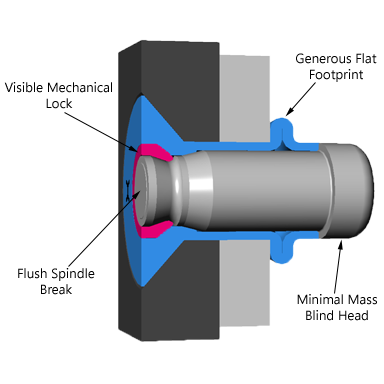 Design features
The Ti-Matic® blind bolt system consists of three main components: the rivet sleeve, the spindle and the lock collar. These three components are locked together and form a single unit to handle all different kinds of shear, tension and vibration loads.
The Ti-Matic® blind bolt achieves high strength and vibration resistance due to its locking capabilities. The spindle is mechanically locked to provide vibration-resistant FOD-free installations. The lock ring fills the lock cavity to prevent leakage or corrosion pockets (avoids crevice corrosion). As a result, the blind bolt allows for a simple yet secure installation.
Ti-Matic® blind bolts are available for Unimatic® single-action ("U" code) installation in all material combinations and configurations.
Flush head Ti-Matic® blind bolts are installed to provide a flush spindle break so no trimming or shaving is required for aerodynamic surfaces. Ti-Matic® blind bolts are available in 100° flush head, wide bearing protruding head and 130° shear flush head. They function in hole sizes and grip ranges similar to traditional MS blind bolts and can be installed on blind side sloping surfaces up to 5° (EV version) or 7° (MV version) without loss of performance. Ti-Matic® blind bolts are qualified to Huck specification T1021F under HFS part number groups UBP, UB100 and UB130.
Cost-effective features
Easy installation:
This lightweight fastener allows for easy installations.
Unimatic® single action installation:
The Unimatic® single-action installation principle offers the simplest design and requires little operator training. It is compatible with a variety of traditional and new installation tools, from small lightweight to offset and right-angle designs.
Drive washer:
The Ti-Matic® blind bolt fastening system provides an optional drive washer to make it more user-friendly. This allows for the use of diameter-dedicated blunt tools when installing and provides the advantage of a new sharp driving anvil with each fastener.
Related Information