Kelox® inserts and studs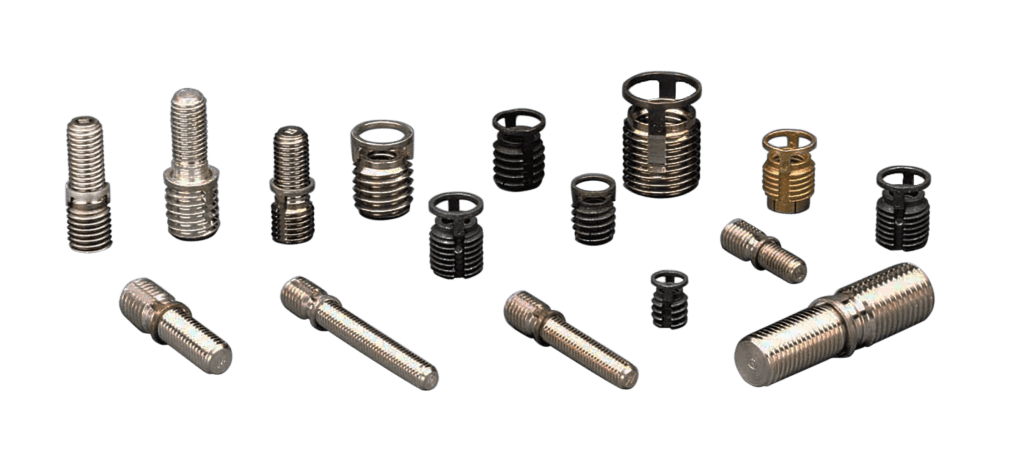 Our Kelox® inserts and studs are high-performance threaded products that require smaller-diameter installation holes than other solid bushing inserts and studs. These smaller-diameter holes translate into overall reduced boss sizes and weight savings. Kelox® inserts and studs are primarily used in fixed and rotary-wing aircraft, engines, gearboxes, tracked vehicles and accessory housings.
Design features
Howmet Fastening Systems has incorporated a pair of self-broaching keys that are joined by an integral ring. This lock ring facilitates the driving of the keys into the structure. The circumference is contained totally within the envelope of the parent material thread. Kelox® fasteners are supplied with the lock ring temporarily joined to the fastener, so proper installation depth is assured at the time of assembly.
These inserts and studs are available in a variety of materials, including A286 corrosion resistant steel, 4140 alloy steel and Inconel® 718 alloy.
Cost-effective features
Easy application:
Due to the smaller-diameter installation holes, the Kelox® inserts and studs reduce installation time and can be installed using hand tools. Additionally, the Kelox® fasteners are temporarily joined to the lock ring, which guarantees proper installation depth.
Versatility:
Kelox® inserts and studs can be used anywhere strong, long-lasting thread forms are required in a variety of parent materials, such as magnesium and aluminum. Kelox® studs are beneficial when the use of standard bolts becomes impractical or impossible. Typical applications include, but are not limited to, engine or power transmission components.
Weight savings:
The small diameter installation holes decrease the cost and increase weight savings. This feature is especially important in applications involving aircraft or vehicles.
Inconel is a registered trademark of Huntington Alloys Corporation.