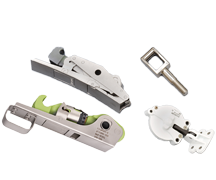 Structural latch assemblies
Structural latch assemblies are used in applications requiring elevated static and dynamic load-carrying capability for larger structures, where ease of access for passenger entry, cargo loading or maintenance is required.
Hook latches and keeper assemblies offer high reliability and quick access when mounted onto engine fan cowls, fairings or thrust reverser structures. Low-profile latches provide ease of closure and can be used in limited access areas. Adjustable hook latches are used in restricted envelopes where an adjustable keeper cannot be installed. The adjustment property offers quick rigging of the latch.
Rotary latches, which are available in rotary cam or hook-actuated versions, are used where high strength is required in limited space. They can be operated using standard hex or square-drive tools.