Captive Screws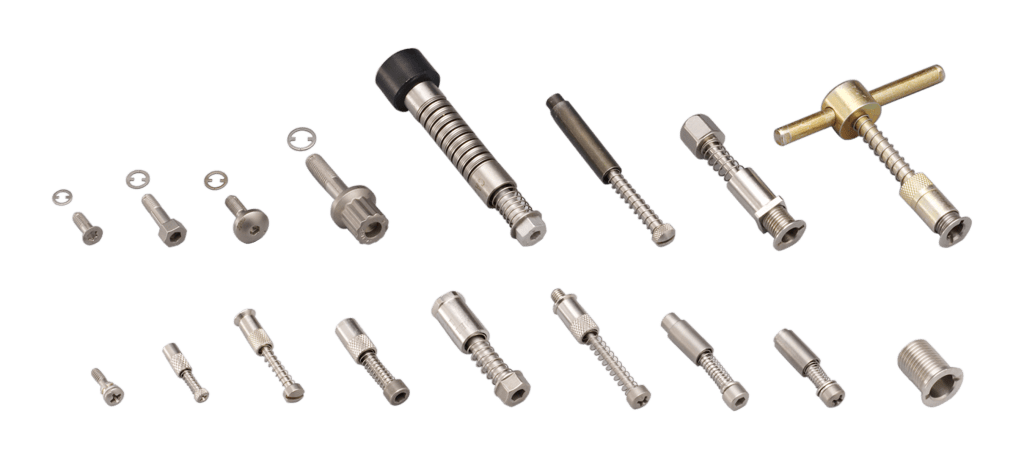 Howmet Fastening Systems offers a wide variety of captive screws. These fasteners are integral components in thousands of major airframe and electronics products. Whether specified for use in aerospace, electronics, transportation or industrial products, these trusted captive screws have served the industry for more than 50 years. Howmet Fastening Systems' captive screws are engineered for strength, reliability and performance.
Design features
Turn-Loc® captive screws are spring-loaded and available as fully or partially retracting versions in fixed or floating installations. The attractive stainless or anodized aluminum finish makes them especially suitable for front panel applications. The knurled knob allows for easy fingertip operation. These Turn-Loc® fasteners are available in low- and high-profile assemblies.
Low-profile captive screw assemblies are the answer when parent material thickness is not sufficient to countersink, but protrusion must be kept to a minimum. The controlled thread length of the stud provides adequate thread for engagement with the mating part while allowing maximum play along the axis of the sleeve, preventing jacking.
Our crimp ring captive screw design allows for a mechanically installed ring to permanently attach the screw to the panel. The attachment is installed with a simple hand tool.
Medium-profile captive screw assemblies are designed with a sleeve/standoff that allows finger gripping of the screw for easy engagement. These captive screws have torqueing features for use with a standard driver. This design allows threaded disengagement from the mating part without causing jacking.

High-profile, all-stainless captive screw assemblies are spring-loaded to provide holdout following disengagement. The assembly is captivated to the panel by a nut retainer that is mated with internal threads in the sleeve, providing improved resistance to shear loads.

Jacking screws are a high-strength captive screw designed for the dual purpose of panel retention combined with jacking action for panel removal. The steel sleeve that captivates the screw to the panel is partially swaged over the screw head to provide a smooth, controlled jacking force when the fastener is removed.
Cost-effective features
Easy assembly:
Captive screws enable quick assembly and disassembly of panels in applications requiring regular access.
Durable:
Continued reuse of threaded fasteners can cause damage to the application after only a few cycles, resulting in high repair costs. Lost and dropped fasteners are no longer an issue in difficult to access areas. Once installed, captive screws are permanent yet still allow access inside the application.
Cost savings:
These captive screws reduce inventory, improve speed of assembly and prevent loss because they are able to be installed and removed with ease. They also enhance product safety by reducing the potential for loose hardware in moving parts.
Related Information