Eddie-Bolt® 2 Fastening System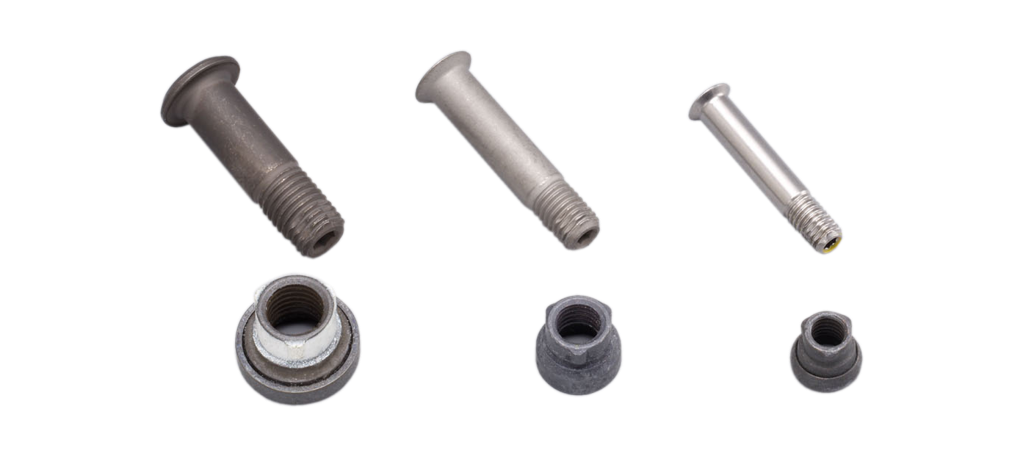 Our Eddie-Bolt® 2 fastener is a high-performance aerospace fastening system that's ideal for aerospace composite structures. It's state-of-the-art, free-running nut provides exceptional clamping power.
Design Features
The Eddie-Bolt® 2 pin is designed with five flutes in the upper portion of the threaded area. This feature allows a positive mechanical lock to be made during installation by using the free-running Eddie-Bolt® 2 nut™. Eddie-Bolt® pins and nuts are available in various diameters, materials and finishes. The free-running nut and superior mechanical lock provide many significant benefits as well. During installation, the Delta-Rad™ driver fits over the three external lobes of the Eddie-Bolt® 2 nut. Torque is applied, and upon reaching the required clamp load, the lobes automatically deform into the flutes of the Eddie-Bolt® 2 pin. As a result, they form a positive mechanical lock and complete the installation without any foreign object debris (FOD).
Cost-effective features
Faster installation:
The free-running nut simplifies and speeds installation by allowing the nut to be installed up to the sheet line with no prevailing torque.
Reduced rework:
The potential for galling at high installation speeds is eliminated because of minimal friction between the pin and nut. In addition, the new Spline-Lok® recess option provides increased torque-reaction capability, substantially reducing tool wear and breakage.
Enhanced limited access capability:
The Eddie-Bolt® 2 fastener can be used where other systems cannot because it has a lower profile pin and nut, allowing for easy installation and making limited access tooling possible.
High vibration resistance:
The true mechanical lock provides significantly superior vibration resistance compared to other fastening systems that rely on friction locks.
Enhanced joint performance:
Its high, consistent clamp-up provides superb static and fatigue strengths.
No FOD:
The FOD associated with frangible collars is eliminated.
Simplified tooling:
The Eddie-Bolt® 2 system eliminates the need for torque-controlled tooling, reducing manufacturing costs and enhancing reliability.