Asp® Fasteners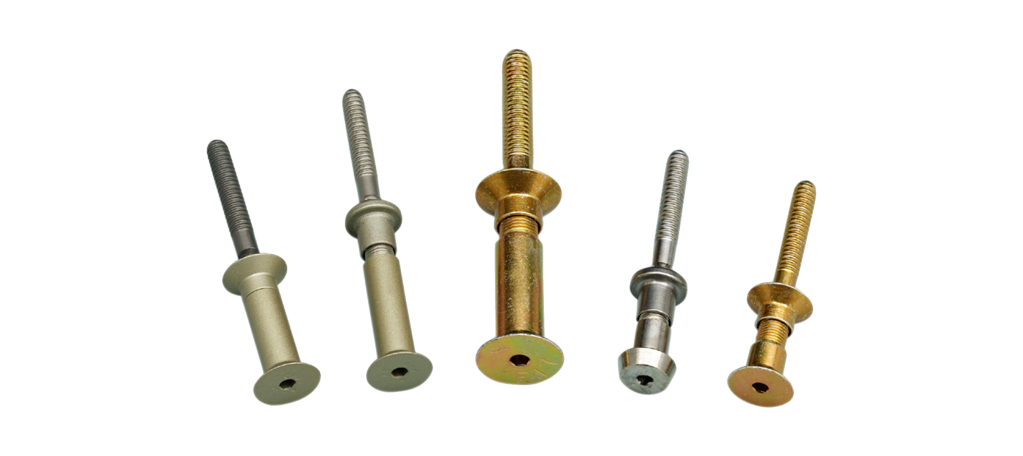 The Asp (Adjustable Sustained Preload) fastening system provides a simplified method of fastening composite, soft core, metallic or other materials that are sensitive to fastener clamp-up or installation force considerations. Clamping force can be infinitely adjusted and then is sustained by installation to accommodate the unique requirements of a given structural design.
The Asp fastener has a positive mechanical lock for use in vibration and FOD critical installations. It installs quickly and easily, eliminating the need for potting, bushings, inserts or stepped hole preparation. This fastener is offered in 8740 alloy steel, A286 and 6Al-4V titanium.

Asp® fastener

Flush head pin and sleeve
Design features
Our Asp® fasteners are able to install the "free-running" internally threaded component with precise torque application. This is due, in part, to the absence of prevailing torque-type locking devices and the fastener's fine pitch threads. Consequently, there is no risk of crushing from inaccurate torque application.
The fastener is available in two types – the Asp® (full shank) and the 2Asp (pilot type shank). It is also available in flush head configuration, double flush (flush pin, flush sleeve) or with protruding heads. The Asp® and 2Asp fastening systems are available in 8740 alloy steel, A286 CRES and 6Al-4V titanium. These Asp® fasteners are found on most military and civilian aircraft.
Cost-effective features
Advanced lock ring capabilities:
The fasteners are able to subsequently install a mechanical high-integrity lock ring in place without applying any force onto the panels. These fasteners absorb 100% of the installation swage force during lock installation.
Adjustable clamp force:
The clamping force can be infinitely adjusted within maximum recommended torque limits and when no further load is applied during installation of the lock collar. This fastening system provides the capability to incrementally adjust the clamp force to the individual needs and capabilities of the specific structural assembly.
Quick installation:
The installation is quick and easy and eliminates the need for potting, bushings, inserts or stepped hole preparation. Because of their ability to sustain clamp force, these fasteners are ideal for delicate structures of honeycomb or soft-core panels used in engine nacelles, wing or empennage surfaces, control surfaces and fairings.
Related Information