Howmet Aerospace on the Pratt & Whitney PurePower® Geared Turbofan Engine™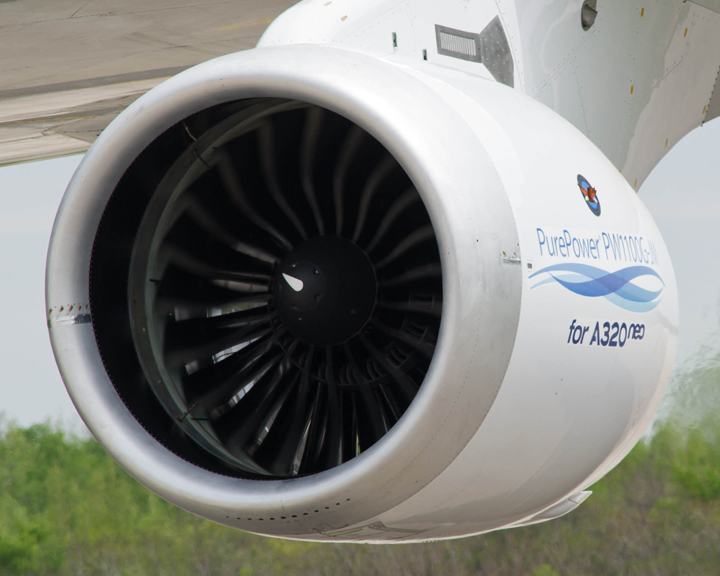 By inserting a gear into the design of its latest jet engine, Pratt & Whitney introduced a way to optimize performance of the PurePower® Geared Turbofan™ engine, which is transforming aviation.
When it comes to aero engines, the faster the back "hot section" runs, the greater the fuel efficiency. But that speed is limited by how fast the much larger front fan blade can turn. By decoupling those sections, the gear system enabled the front fan blade to rotate at a slower speed, and the "hot section" to operate at higher speeds.
This differential in speed—and as a result, in temperature—opened the door for Pratt & Whitney to use other materials for the front fan blade than traditionally-used, hotter-burning titanium and carbon fiber. It saw an opportunity to use a lighter material—such as aluminum—that could help increase fuel efficiency even further. But that was something that had never been done before.
Pratt & Whitney turned to the metal experts at Howmet Aerospace to help find an answer. Working closely with Pratt & Whitney and backed by decades of materials science expertise, during a six-year development program, Howmet Aerospace engineers cracked the code to deliver the first ever aluminum-lithium front fan blade forging for aero engines. The combination of the gear technology and Howmet Aerospace's advanced alloys and proprietary manufacturing processes, enabled us together to go where no one had gone before: aluminum in the front fan blade. And that helped Pratt & Whitney create a cleaner, quieter, more fuel-efficient engine.
The PurePower engine will be used to power some of the world's highest volume aircraft, including the next-generation Airbus A320neo. And every front fan blade will be forged into reality in part by Howmet Aerospace.
Engines are a core focus for engineering aviation efficiency. With Howmet Aerospace's capability to manufacture 90 percent of structural and rotating aero engine components, we are excited to be playing an important role in helping our aerospace customers continue to elevate their performance.
PurePower is a registered trademark of United Technologies Corporation.