Amy E. Alving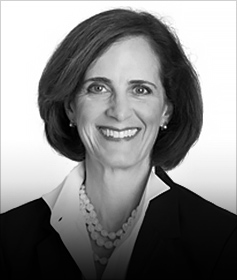 Director Since: 2018
Age: 60
Committees:
Cybersecurity Committee; Governance and Nominating Committee (Chair)
Career Highlights and Qualifications:
Leidos Holdings, Inc. (formerly Science Applications International Corporation (SAIC)), one of the nation's top defense sector providers of hardware, software and services (2005-2013)
Senior Vice President and Chief Technology Officer, responsible for the creation, communication and implementation of SAIC's technical and scientific vision and strategy (2007-2013, stepping down when the company separated into two smaller companies)
Defense Advanced Research Projects Agency, (DARPA) (1998-2005)
Director of the Special Projects Office (SPO), where she was a member of the federal Senior Executive Service
Deputy Director
United States Department of Commerce
White House Fellow, serving as a senior technical advisor to the Deputy Secretary of Commerce (1997-1998)
University of Minnesota (1990-1997)
Taught Aerospace Engineering, including as a tenured Associate Professor.
Other Public Company Directorships:
Current: DXC Technology Company; Federal National Mortgage Association (Fannie Mae).
Prior: Howmet Aerospace (then named Arconic Inc.) (November 2016 – May 2017); Pall Corporation (since acquired by Danaher Corporation) (2010 – 2015).
Other Affiliations:
Current: Member, Air Force Scientific Advisory Board; Member, Council on Foreign Relations; Board of Trustees, Princeton University.
Prior: Member, Defense Science Board.
Attributes and Skills: Ms. Alving brings to the Board extensive technology, innovation, cybersecurity and risk oversight experience across multiple sectors, including aerospace, defense, and government. Ms. Alving was the Chief Technology Officer of one of the largest U.S. defense contractors; has led a major element of the military's research and development enterprise; and was a tenured faculty member conducting original research at a major university. In addition to Ms. Alving's expertise in technology, science and engineering, which offers important insight to the Company, her service on other public company boards and with non-profit organizations provides our Board with the benefit of her perspectives on corporate governance and corporate responsibility.