James F. Albaugh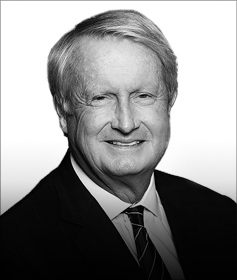 Independent Lead Director Since: 2020
Director Since: 2017
Age: 73
Committees:
Audit Committee; Governance and Nominating Committee; Compensation and Benefits Committee
Career Highlights and Qualifications:
The Boeing Company ("Boeing"), a global aerospace company (1975-2012)
President and Chief Executive Officer of Boeing's Commercial Airplanes business unit (2009-2012)
President and Chief Executive Officer of Boeing's Integrated Defense Systems business unit (2002-2009)
Various other executive positions, including President and Chief Executive of Space and Communications; President of Space Transportation; and member of Boeing's Executive Council (1998-2012)
Industrial Development Funding, a global asset management firm
Senior Advisor (2018-Present)
Perella Weinberg Partners, a global advisory and asset management firm
Senior Advisor (2016-2018)
The Blackstone Group L.P., a private equity and financial services firm
Senior Advisor (2013-2017)
Other Public Company Directorships:
Current: American Airlines Group Inc.
Prior: Goldman Sachs Acquisition Holdings (2018 – 2020); Harris Corporation (2016 – 2019); B/E Aerospace, Inc. (2014 – 2017); TRW Automotive Holdings Corp. (2006 – 2015).
Other Affiliations:
Current: Board of Directors, Aloft Aeroarchitects (formerly PATS Aerospace); Board of Directors, Belcan Corporation; Chairman, National Aeronautic Association; Board of Trustees, Willamette University; Board of Visitors, Columbia University – The Fu Foundation School of Engineering and Applied Science; elected member of the International Academy of Aeronautics; elected member of the National Academy of Engineering.
Prior: President, American Institute of Aeronautics and Astronautics; Chairman, Aerospace Industries Association; Member, Air Force Association; Member, Association of the United States Army.
Attributes and Skills: Mr. Albaugh brings to the Board substantial experience in executive leadership, finance, strategic planning, business development, and global operations and management. He has a deep knowledge of and leadership experience in the aerospace, defense and space sectors, including with respect to complex systems, contracts and governmental oversight, as well as experience in the investment industry. Mr. Albaugh's industry expertise and leadership roles, as well as public company board and corporate governance experience, enable him to provide valuable insight and perspectives and to lead the Board effectively as its Lead Director.