Jody G. Miller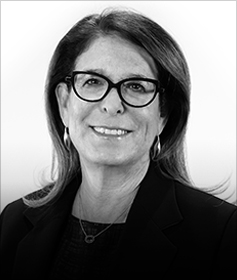 Director Since: 2020
Age: 65
Committees:
Cybersecurity Committee (Chair); Governance and Nominating Committee
Career Highlights and Qualifications:
Business Talent Group (BTG), a global marketplace for high-end independent talent on demand
Co-Founder and CEO (2007-June 2019)
Co-CEO (July 2019-2022)
Heidrick and Struggles, Inc. ("Heidrick"), a global leadership advisory firm that acquired BTG in April 2021
Senior Advisor to Heidrick On-Demand Talent (2023-Present)
Maveron LLC, a venture capital firm
Venture Partner (2000-2007)
Americast, a digital video and interactive services joint venture with Walt Disney Company
Held various positions, including as Acting President and Chief Operating Officer (1995-1999)
United States Government
White House: Special Assistant to the President during the Clinton Administration (1993-1995)
White House Fellow at the Department of the Treasury (1990-1992)
Began her career as an attorney at Cravath, Swaine & Moore
Other Public Directorships:
Current: LKQ Corporation.
Prior: Capella Education Company (2000 – 2018); TRW Inc. (2005 – 2015).
Other Affiliations:
Current: Board Member, The Climate Board.
Prior: Board of Directors, Imbellus Inc.; Advisory Board, Drucker Institute; Board Member, Peer Health Exchange, Inc.; Board Member, National Campaign to Prevent Teenage and Unplanned Pregnancy.
Attributes and Skills: Ms. Miller brings a diverse skill set to the Board, including executive leadership, talent management, finance, technology and innovation, and legal expertise. With decades of executive leadership and entrepreneurial experience, she has significant knowledge of strategic planning, large organization management, corporate development, risk oversight, and assessing human capital requirements. Ms. Miller also brings to the Board a fresh perspective on the evolving talent marketplace. In addition, she has government affairs experience through her public sector experience in the White House, the Department of Treasury and as chief legal advisor to the Governor of South Carolina. Ms. Miller's current and prior board services at public, private and philanthropic organizations provides our Board with the benefit of her perspectives on corporate governance and environmental, social and corporate responsibility.