John C. Plant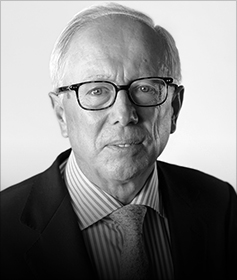 Chair of the Board Since: 2017
Director Since: 2016
Chief Executive Officer
Age: 69
Career Highlights and Qualifications:
Howmet Aerospace, Inc.
Chair of the Board (2017-Present)
Chief Executive Officer (2021-Present)
Co-Chief Executive Officer (2020-2021)
Chief Executive Officer (2019-2020)
TRW Automotive Holdings Corporation, a global automotive supplier
Chairman of the Board (2011-2015, when the company was acquired by ZF Friedrichshafen AG)
President and Chief Executive Officer (2003-2015)
Under his leadership, TRW employed more than 65,000 people in approximately 190 major facilities around the world and was ranked among the top 10 automotive suppliers globally
TRW Inc., a global aerospace, systems and automotive conglomerate
Co-Member of the Chief Executive Office (2001-2003)
Executive Vice President (1999-2001)
LucasVarity Automotive, an automotive parts manufacturer
President (1997-1999, when the company was acquired by TRW Inc.)
President and Managing Director of the Electrical and Electronics division (1991- 1997)
Other Public Directorships:
Current: Jabil Circuit Corporation; Masco Corporation.
Prior: Board of Directors, Gates Industrial Corporation PLC (2017 – 2019); Chairman, TRW Automotive (2011 – 2015).
Other Affiliations:
Current: Fellow, Institute of Chartered Accountants.
Prior: Director Emeritus of the Automotive Safety Council
Attributes and Skills: With over three decades of executive leadership experience, Mr. Plant has substantial experience in global operations and management, strategic planning, finance, business development, and risk management. He brings a track record of successfully leading businesses through periods of downturns and challenges and periods of growth and market development. His expertise in the aerospace and defense and automotive industries and his deep familiarity with all aspects of the Company's businesses enable him to develop and lead the execution of the Company's strategic vision, assess attendant risks and guide the Company's growth. Mr. Plant's vast executive and operational experience, as well as his current and prior service on public and private company boards, enables him to be an effective leader, who provides valuable insights to the Board and keeps directors apprised of significant developments in the Company's business and industry.