Robert F. Leduc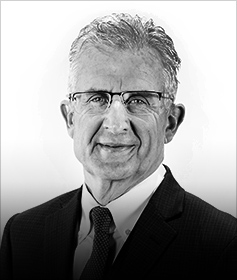 Director Since: 2020
Age: 67
Committees:
Compensation and Benefits Committee (Chair)

Career Highlights and Qualifications:
United Technologies Corporation (UTC, since renamed Raytheon Technologies Corporation) (UTC career spanning over 38 years)
President of Pratt & Whitney, a jet engine manufacturer (2016-February 2020)
President of Sikorsky Aircraft (now owned by Lockheed Martin) (2015)
President of Boeing Programs & Space, UTC Aerospace Systems (2012-2015)
President of Boeing 787, Space Systems & U.S. Government Classified Programs (2010-2012)
President of Flight Systems and Classified Programs at Hamilton Sundstrand (2004-2010)
President of Large Commercial Engines and Chief Operating Officer at Pratt & Whitney (2000-2004)
Senior Vice President, Engine Programs & Customer Support (1995-2000)
Other Public Directorships:
Current: AAR Corporation; JetBlue Airways Corporation.
Other Affiliations:
Current: Co-Founder, Robert and Jeanne Leduc Center of Civic Engagement, University of Massachusetts Dartmouth.
Prior: Board of Directors, Connecticut Science Center; Consulting Partner, Advent International.
Attributes and Skills: A recognized leader in the aerospace industry, Mr. Leduc received Aviation Week's Lifetime Achievement Award in 2020. Mr. Leduc brings to the Board deep experience in aerospace, from general aviation to commercial to military to space, proven leadership skills, a track record of executing complex development programs and global management and operational expertise. With decades of senior leadership experience, he has significant knowledge of program execution, long-cycle investments, risk oversight, brand enhancement, talent management and customer value creation. In addition, Mr. Leduc brings valuable insights and perspectives into growth, strategy, managing through down cycles and capital market transactions . Mr. Leduc's expertise and current service on several public company boards provide our Board with an important perspective on critical aspects of the Company's business.