Sharon R. Barner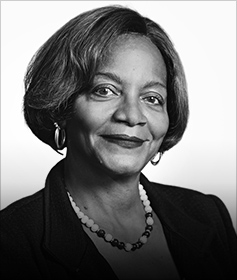 Director Since: 2021
Age: 66
Committees: Governance and Nominating Committee
Career Highlights and Qualifications:
Cummins Inc., a global power train and power solutions leader (2012-present)
Vice President, Chief Administrative Officer and Corporate Secretary (2021-present)
Interim Chief Human Resources Officer (2022)
Vice President, General Counsel and Corporate Secretary (2012-March 2021)
United States Patent and Trademark Office
Deputy Under Secretary of Commerce for Intellectual Property and Deputy Director, responsible for patent and trademark operations (2009-2011)
Foley & Lardner LLP ("Foley")
Attorney; held a number of leadership roles, including as a member of Foley's Executive Management Committee, chair of its Intellectual Property Department and chair of its Chicago Intellectual Property practice area (1996-2009)
Other Public Company Directorships:
Prior: Walker Innovations Inc. (2015 – 2018).
Other Affiliations:
Current: Board of Directors, Eskenazi Health Foundation; Board of Trustees, Foundation for Advancement of Diversity in Intellectual Property Law; Board of Trustees, Syracuse University.
Prior: Board of Directors, Association of Corporate Counsel.
Attributes and Skills: Ms. Barner brings a diverse skill set to the Board, including legal and intellectual property expertise, manufacturing industry knowledge, executive leadership, and risk and human capital management experience. Her current and past senior leadership roles included responsibility for critical functions of a global company, including with respect to risk oversight, ethics and compliance, human resources, ESG, legal, regulatory and government contracting, and strategy and business development. Ms. Barner's comprehensive background, intellectual property knowledge and recognized leadership enable her to bring valuable insights to the Board.