Ken Giacobbe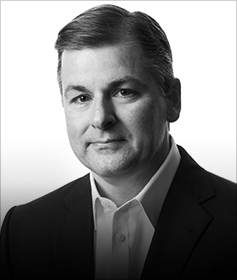 Executive Vice President
Chief Financial Officer
Howmet Aerospace
Ken Giacobbe is Executive Vice President and Chief Financial
Officer of Howmet Aerospace Inc., a role he has held since
November 2016. Ken has deep experience leading finance
functions across Howmet Aerospace's (formerly named Arconic
Inc. until April 2020 and formerly named Alcoa Inc. until
November 2016) portfolio, having served in senior finance roles
in both the USA and Europe across the aerospace, commercial transportation, industrial gas turbine, and commercial building and construction markets. Ken serves on the Howmet Aerospace Executive Leadership Team, the senior leadership team that sets strategic direction for the company.
Prior to his current role, Ken served as Chief Financial Officer of Alcoa Inc.'s Engineered Products and Solutions (EP&S) business from July 2015 to November 2016, where he had financial oversight for the EP&S business, including Alcoa Power and Propulsion, Alcoa Fastening Systems and Rings, Alcoa Forgings and Extrusions, and Alcoa Titanium and Engineered Products. He previously had financial oversight for Alcoa Wheel and Transportation Products, and Alcoa Building and Construction Systems until July 2015 when they were Transportation and Construction Solutions.
Ken was Group Controller for the Alcoa Inc. EP&S business, a position he assumed in 2011. Ken joined Alcoa Inc. in 2004 as Vice President of Finance for Global Extruded Products, part of Alcoa Forgings and Extrusions. He then served as Vice President of Finance for Alcoa Inc.'s Building and Construction Systems business as an expatriate in Geneva, Switzerland from 2008 to 2009.
Early in his career, Ken held senior finance roles at Avaya and Lucent Technologies. He earned a Bachelor's Degree in Economics from the State University of New York at Oneonta and an MBA from the University of South Florida.